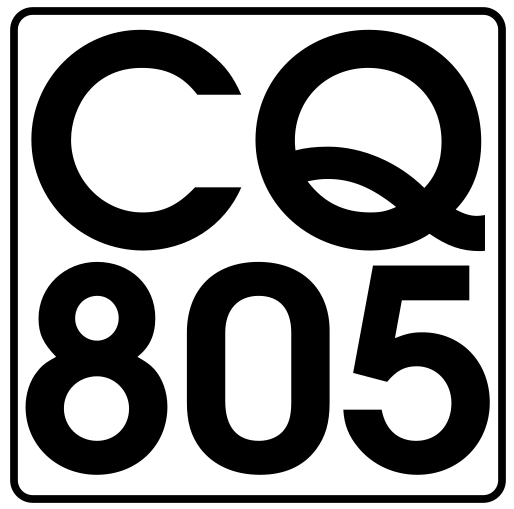 WELCOME!
Welcome to CQ805, an Amateur Radio Club for the Central Coast of California. Rather than be a club centered around a particular activity or operation style, we are a community of hams to find other hams to connect with who are interested in similar aspects of the hobby. We strive to be inclusive of all amateurs, or those who want to be, regardless of their level of activity or specific preferences in the hobby.
Where/When?
We don't have regularly scheduled meetings or activities, yet. Join us on-line in Slack!
Slack:
CQ805 mostly exists on-line. Currently (December 2019), the forum we use is Slack. Click here to join the CQ805 Slack. Everyone is welcome, feel free to share this link far and wide.
Lunches:
OccasionallyRegularly, a conversation on Slack will go like this: "That's an awesome topic! Let's meet for lunch to talk about it in more detail," and a "club meeting" will be planned and announced on Slack.
On The Air:
CQ805 has members all over San Luis Obispo and northern Santa Barbara county. So a wide-area repeater system is ideal. Several of us hang out on the W6SLO County Wide system: 444.100MHz, + Offiset, CTCSS 127.3
If DMR is more your style, the DMR of Anarchy system has good coverage in the area, and TG:31666 is linked to Brandmeister for your Hot Spotting pleasure.
Rules:
Whether you call it The Golden Rule, or Wil Wheaton's Law, it's all the same thing: Be thoughtful and kind to everyone. Keep is civil, take your non-ham-related disagreements out of the forum. Don't be a dick.
Officers:
"Officer" makes it sound like we have more authority than we really do. We're mostly the ones who run the site, file the paperwork, and happen to be the most active on Slack.
President/Trustee/Frontman: Mark Smith, KR6ZY
Vice President/DMR Anarchist: Kirk Smith, K6RCT
Treasurer/Owner Of Many Trailers: Gary McCrillis, AD6OW (but we don't have any money, so we're not really sure what he actually does.)
Secretary: Slack, I guess?