Telephone
Pete Fullerton
(803) 207-4238
Sue Fullerton
(803) 207-4078
Postal Address
Truck of Love
1455 George Dunn Rd
Rock Hill, SC 29730
E-Mail
peteandsue@netgate.net
...and thank you for visiting the
Truck of Love Ministries web site.
Truck of Love Ministries is a non-profit organization
in Rock Hill, South Carolina.
We are dedicated to helping those in need
wherever we find ourselves.
I know this woman would have died on the street last month. Because of your generosity, Truck of Love was able to help with food and lodging – costs that cannot be absorbed completely by the parish outreach. You saved a life and it cost about $200.
~ An excerpt from the February 2013 Sue's Corner

~ ~ ~ ~ ~ ~ ~ ~ ~
Each of God's poor that Pete meets on the street have their own unique journey.
Because of your generous donations, Pete is able to spend time with people who have no one in their lives who care about them.
Because of you, Pete can sit with a mother who is grieving that her daughter is in jail for the third strike.

He can spend the afternoon with a person who needs to go the hospital.
He can provide bus passes and quarters for laundry so kids can go to school in clean clothes.
He can help people who have shelter, but have need of other essentials: food, clothing, medicine and comfort.
Thank you for helping Truck of Love to help the people who are unable to fit into society, who are not wanted nor missed by anyone, who are God's poor.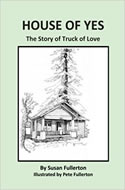 The House of Yes
by Sue Fullerton
We encourage you to read this book if you have ever been a part of Truck of Love, if you are interested in service, if you ever had an urge to do something and wondered how, or if you are a person of faith. There is something for everybody in this story.
Available on Amazon.com (on Kindle)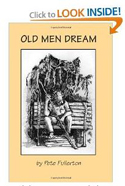 Old Men Dream
by Pete Fullerton
One man's story of following God's call. His journey from the comfort of his home and family to living on the streets of America. How his dreams guided him and how God's blessings unfolded along the way.
Available on Amazon.com (and on Kindle)